Dit apparaat is niet meer in mijn bezit.
Specificaties:
Print method Semiconductor laser and electrophotography
Print addressability: 600 x 600 dpi 2400IQ
Print speed:

Monochrome: 24 sheets per minute (letter size)
2 (two) color: 12 sheets per minute (letter size)
4 (four) color: 6 sheets per minute (letter size)

Duplex print speed

Maximum mono / black print speed: 16 sides / 8 PPM
Maximum 4 color print speed: 6 sides / 3 ppm
Combination color / mono (one side color, other side mono) is no slower than color speed (4 ppm) and no faster than mono speed (8 ppm).

Printer warm-up time: 240 seconds (maximum)
Acoustic noise

Standby 45 dBA
Operation 51 dBA

Fonts

240 resident scalable fonts: PostScript 3 emulation with 156 scalable fonts 84 PCL 6 emulation scalable fonts 2 bit mapped fonts
2 PCL 6 bitmap fonts: Line printer 16 POSTNET barcode
World class international font support: 83 symbol sets in the PCL 6 emulation to support all the languages that use these characters.

Paper input: Easy loading paper trays (no corner bucklers)
Tray 1 -

250 sheet drawer supporting A4, letter, based on 20 lb paper
50 transparencies supporting A4, letter
80 label sheets
15 envelopes
50 card stock sheets
Optional 250 sheet B5 and legal input drawer (used in Tray 1 position) provides the ability to print to a maximum of 8.5 x 14 in. (216 x 356 mm)

Optional 500 sheet input drawers: Tray 2 - 500 sheet input drawer installs under the printer supporting letter, A4, and letter
Paper output: Full sensing top output bin: 250 sheets (face down)
Paper sizes supported: A4, letter, legal, executive, transparencies, label and envelope
Printer memory: Industry standard on 32 bit 100 MHz 100 pin SDRAM DIMMs
Interface:

High speed parallel interface (IEEE 1284 standard, nibble byte and ECP modes)

Optional interfaces:

Serial support for RS-232 and RS-422 with the optional Tri-Port interface card
Infrared
SCSI
LocalTalk
Internal Solution Ports (ISP) adapter
USB and 1284-A parallel

Internal solutions ports

1 port for tri-port adapter, serial port adapter, or additional parallel port adapter
3 memory connectors
Gekocht met een defect in het papiertransport.
De printer heeft een extra 500 vel papierlade & 64 MB RAM.
Probleem 1: "201 Paper Jam - Open Rear Door"
Het bleek dat de Fuser + Paper Exit Unit niet draaide. Oorzaak: niet functionerende koppeling.
(waarschijnlijk was er wat olie van de Fuser in gekomen...)
Gelukkig deed de koppeling het weer na een schoonmaakbeurt.
De meest rechtse koppeling functioneerde niet meer goed.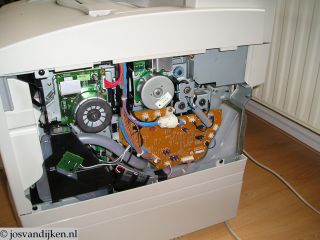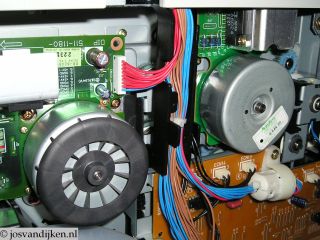 Probleem 2: "241 Paper Jam - Check Tray 1"
De printer wil niet goed het papier pakken uit tray 1. Dit heb ik tijdelijk opgelost door tray 2 als default source te selecteren.
Probleem 3: "954 NVRAM CRC Failure"
Sinds kort geeft de printer elke keer bij het inschakelen fout 954. Factory reset werkt, tot de printer weer uit is geweest...
Probleem 3 is opgelost door het uitwisselen van de Main Controller Assembly met de donor printer.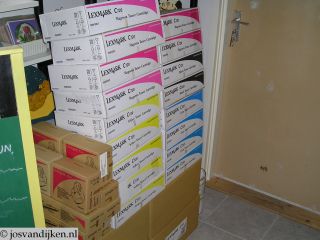 Bij de printer zaten ook nog een paar nieuwe toners.
Pagecount:
23-OCT-2008: 9470
16-JAN-2011: 9718 (+248)
30-JUN-2011: 40423 (Na wisseling Main Controller Assembly)
15-JUL-2013: 40499 (+76)
Downloads: