De Sony U-Matic recorder/player VO-5630
Features:
Compact, lightweight, simple to use, front loading.
Front panel control of all record/playback functions.
Logic control allows direct switching between modes.
Control panel can be tilted for ease of operation.
Automatic video level ensures optimum video recording.
Audio limiter overrides manual setting at programme peaks.
Audio dubbing of music/effects/commentary on channel 1.
Video dub connector ensures the highest possible quality of video duplication.
Input monitor displays audio signals for manual level adjustment.
Fast (x5) picture search possible in forward and reverse.
High quality still picture obtained when PAUSE is pressed.
Automatic stop in long pause mode (after about 8 minutes) protects heads and avoids tape damage.
Programmable rewind/repeat/continuous play facility. Full auto-stop/rewind at tape end or at pre-set "000" setting.
Twin audio tracks for stereo/bilingual operation.
Front panel selection of PAL/SECAM/NTSC standards.
Digital servo system for stable tape transport and steady picture.
Moisture detector avoids tape/head damage.
Low power consumption.
External Sync capability.
Optional timer for unattended recordring orplayback.
Optinal modulator for playback through domestic TV set.
Adjustable headphone level.
Aluminium diecast chassis.
Mirrored cassette compartment for check on tape remaining.
Can be mounted in 19 " EIA standard rack or console.
Specifications:
System:
Video recording system:
Rotary two-head helical scan system

Luminance:
FM recording

Colour Signal:
Converted subcarrier direct recording

Video signal system:
Recording: CCIR standards PAL or SECAM colour system
Playback: CCIR standards PAL or SECAM colour system
EIA standard NTSC 4.43
Video:

Input:
BNC type: 1.OVP-P +- 0.3V, 75 ohms, unbalanced sync negative

Output:
BNC type: 1.0Vp-p +- 0,2V, 75 ohms, unbalanced sync negative

Dubbing input:
7-pin x 1

Dubbing output:
7. pin x 1

TV input:
8-pin x1

TV output:
8-pin x1

Horizontal resolution:
Monochrome mode: 330 lines
Colour mode: 250 lines

Signal-to-noise ratio:
Monochrome mode: more than 48dB
Colour mode: more than 45dB

External sync input:
2.5V (2.0-5.0Vpp), unbalanced sync negative

Recording Level:
Automatic

Audio:

Inputs:
MIC: Phonojack -60dB, 600 ohms,
LINE: Phonojack -10dB, 47K ohms, unbalanced

Outputs:
LINE: Phonojack -10dBm (47k ohm load), unbalanced
HEADPHONE: Stereojack for 8 ohms load headphones
Level: Adjustable (-24dB to -46dB)

TV:
8-pin x1

Signal-to-noise ratio:
Better than 48 (at 3% distortion level)

Distortion:
Less than 2%

Frequency response:
50Hz to 15kHz

Recording level adjustment:
Manual with audio limiter

Special Functions:

Pause
A still picture is obtained, with automatic long pause function

Search
Approximately 5 times of normal speed in forward and reverse directions
Tape transport:

Tape speed:
9,53 cm/sec

Recording and playback time:
60 min (with Sony KSP-60 U-matic videocassettes)

Fast forward time:
Less than 4 min (with Sorry KSP-60 U-matic videocassettes)

Rewind time:
Less than 4 min (with Sorry KSP-60 U-matic videocassettes)

General:

Power requirements:
AC 220 / 24OV, +- 10%, 50/60Hz +- 10%

Power consumption:
65W

Operating temperature:
5C to 40C (41F to 104F)

Dimensions:
Approx. 446(W) x 237(H) x 516(D) mm

Weight:
Approx. 23.3 kg (51 lb 7 Oz)


Supplied accessories:
AC cord, Operation manual
(Bron / Source: http://umatic.palsite.com)
Foto's: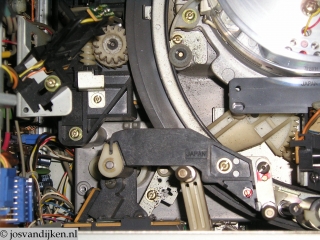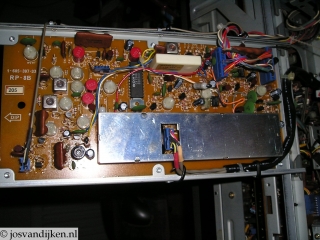 Gezocht: Service Manual
Pinout van de remote connector
Wanted: Service Manual
Pinout for the remote connector
Boris - 06-07-2023 16:59
Always good to find some info on these fine machines. I do own a few as well. Did you manage to get a service manual in pdf?
Jos van Dijken - 07-07-2023 22:08: Unfortunately I do not have a service manual for this machine.