Op de radiomarkt in Beetsterzwaag kreeg ik een kastje cadeau, wat waarschijnlijk is gebruikt als bedrijfs-auto-volg-systeem. In het kastje zat een GPS ontvanger, een GSM modem, en een telemetrie ontvanger/zender (Bedankt F. van Dijken voor het kastje!).
Het onderdeel wat ik ga gebruiken uit dit kastje, is het GSM modem.
Specificaties:
Merk: Falcom
Type: A2D
GSM capability: E-GSM and DCS (GSM ETSI Phase I and II)
GSM data services: 300 ... 14400 BPS, asynchronous, transparent and non-transparent (V.21, V.22, V.23, V.22bis, V.26ter, V.32, V.34, V.110)
Dimensions (L x W x H inmm): 72,0 x 50,5 x 10,5
Weight (in g): 52 for the A2D-B
Temperature range (in °C): Operation -20... +55
Foto's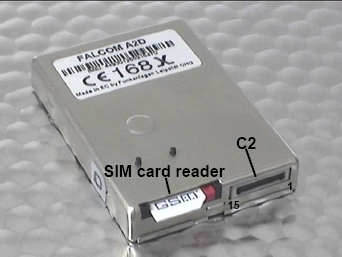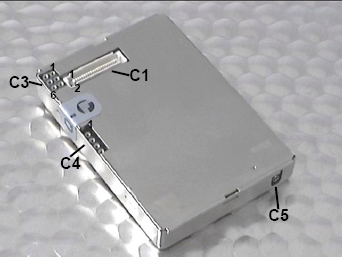 Gelukkig zat er ook een printplaatje bij, met daarop een voeding, en een adapter van C1 (zie boven) naar een normaal soldeerbare aansluiting.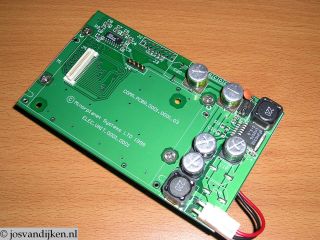 En een behuizing, waar het geheel ook weer in gaat komen:
[5 juni 2007]
De voor en achterplaat zijn zo goed als klaar. De printplaat is ook klaar, en het wachten is op de antenne-stekker.
[28 juni 2007]
Wat output van het GSM Modem:
SMS Versturen:

AT+CMGS=06********
> Dag Frank, Dit SMS'je is verstuurd vanaf de laptop via Hyperterminal en het GSM modem.
+CMGS: 2
OK

SMS Ontvangen: (inhoud van de sms is 'goed')

+CMGS: 1
AT+CMGR=5M",5
+CMGR: "REC UNREAD","+316********",,"07/06/28,21:03:32+08"
Goed
OK

Diverse output (verklaring staat achter AT commando)

AT+CPIN?---> Pincode status (READY: Modem is not pending for any password)

AT+CGMI---> Command gives manufacturer information.
FUNKANLAGEN FALCOM A2D
OK

AT+CGMM ---> Command gives GSM model information.
MULTIBAND900E1800 
OK

AT+CGMR ---> Command gives firmware revision information.
402_M11B.56 1036032 042100 14:48
OK

AT+CGSN---> Command gives IMEI information.
449301250024840
OK

AT+CIMI---> Command gives IMSI information.
204080631021603
OK

AT+CCID ---> Command gives EF-CCID file information.
+CCID: "8931083006128807539"
OK

AT+CPIN?---> Pincode status (READY: Modem is not pending for any password)
+CPIN: READY

AT+CREG? ---> Command is used to show the network registration status
+CREG: 0,1
OK

AT+COPS? ---> Command is used to show the current and the available PLMN´s ...
+COPS: 0,2,20408
OK

AT+COPS=? ---> ... It is also used to select a PLMN manually or automatically.
+COPS: (2,"NL KPN TELECOM","NL KPN","20408"),(0,"NL LIBERTEL","LIBTEL","20404"),
	(0,"dutchtone","Dtone","20420"),(0,"Ben NL","Ben NL","20416")
OK

AT+CSQ---> Command is used to ask for the networks field strength and the current 
	bit error rate.
+CSQ: 31,0
OK

AT+CCED=1 ---> This command can be used by the application to retrieve the cell 
	parameters of the main cell and of up to six neighbour cells. 
	(See below for result of this command)
OK

+CCED: 204,08,11b5,d49d,3,75,63,,,0,,,0,204,08,11b5,,0,102,
	54,204,08,11b5,d49c,1,67,39,204,08,11b5,33d1,6,78,28,
	204,08,11b5,3351,0,82,23,204,08,11b5,d492,0,72,11,
	204,08,11b5,c901,0,9,21,0
OK

Opvragen PrePaid beltegoed

AT+CUSD=1,*101#

OK

+CUSD: 2,"Uw Prepaid tegoed bedraagt EUR  4.71  
 KPN wenst u fijne feestdagen!",0

Downloads: